A Discussion About Staying Connected While Working Remotely
For many, the sudden transition to remote work presented some challenges. By now, you've likely figured out the best way to get your work done, but are you still wrestling with how to maintain a human connection with your employees, coworkers, and clients? SAN's AccessPlus Manager, Jamie DeStefano, shared her experience of keeping the AccessPlus team engaged virtually while working from home.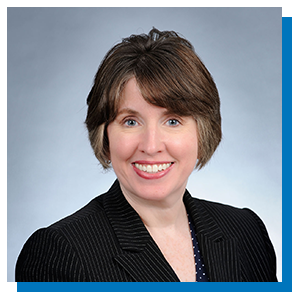 Jamie DeStefano
SAN AccessPlus Manager
First, tell us about AccessPlus and what your team does.
SAN Group's AccessPlus department assists member agents with the placement of business with standard, non-appointed companies. Additionally, this 9-person team of experienced placement specialists offers an expert level of guidance, mentorship and support, including pricing trends and current marketplace appetite. Collaboration amongst AccessPlus team members, and with SAN member agents, is essential to uphold a high standard of service and to foster long-term business relationships, as well as sharing best practices, cross-training team members, and problem resolution.
In what ways do you help your remote team stay connected?
We hold an AccessPlus Daily Meetup each morning at 9 o'clock via GoToWebinar as a way to maintain regular contact and share with each other. These range anywhere from two to 30 minutes, depending on topics, discussions, and guests.
What apps, tools and resources do you use?
We primarily use GoToWebinar, Skype, a virtual phone system, and email for our remote communication.
Do you use any fun or "out-of-the-box" strategies to keep your team engaged?
We've welcomed some of our own team as guest speakers:
Our own Katie Packard-Henderson presented on her life before insurance, which included work in the movie industry.
Our own Marissa Pace presented on an online course she is taking – The Science of Well-being.
We've included a few fun Daily Meetup themes:
Look how our team has grown: pet pics
What we're looking forward to when things open back up
Dream Today, Travel Tomorrow: where would you go if COVID-19, PTO (paid time off) and money were not a factor?
We invite guest speakers to join us for a SAN Member Spotlight or SAN/SIAA Employee Spotlight.
Wednesday is Member Outreach day. Each team member calls at least one SAN member agent, unrelated to an open submission. Since we initiated this program, over 125 members have been contacted.
Why do you think it's important to maintain team connectivity while embracing the work-from-home life?
We have a very collaborative team. In an office setting, our team often works together to discuss potential markets, solutions to challenges, etc. so navigating new ways of connecting is very important to us. We've done well to maintain the collaboration virtually, but definitely look forward to our return to the office!