The largest alliance of independent insurance agencies in the Northeast recognizes leaders in the industry
HAMPTON, NH ⦁ May 23, 2018: Satellite Agency Network (SAN) Group, Inc. recently presented the annual SAN Awards of Excellence to a range of insurance industry professionals and agencies in categories including community service, performance and achievements. The award winners were honored during one of the best-attended SAN annual meetings in recent history, held May 9, 2018 at the DCU Center in Worcester, MA.
"Being successful in this industry, while also providing inspired leadership to peers, can be a tough challenge. As such, we are committed to honoring the dedication, expertise and sheer hard work of our deserving winners," said Matt Masiello, SAN President and CEO. "The award recipients and finalists can be proud of their achievements."
SAN Awards 2018: The Winners
Outstanding Community Service Award
Awarded to a SAN member agency for making an impact in the communities served through volunteerism, community service and outreach.
Winner: J. Williams Insurance Agency — Braintree, MA
Rookie Agency of the Year
Awarded to a top-performing SAN member agency in their first year of membership excelling in the areas of total written premium, profitability standards, professionalism, usage of strategic partner companies, and adoption of SAN and SIAA best practice standards.
Winner: Antesberger Asset Protection — Beaver Falls, PA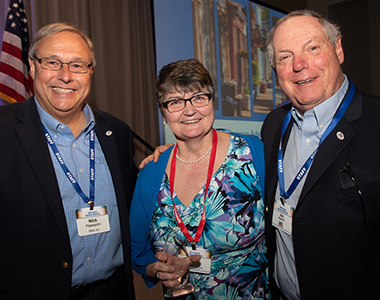 Lynda Cutts (center) of Liberty Mutual is presented with the Company Professional of the Year award by SIAA President, Nick Pappajohn (left) and SIAA Founder, Chairman & CEO, Jim Masiello (right).
AccessPlus Agency of the Year
Awarded to a SAN member agency that demonstrates effective utilization of the AccessPlus facility, inspired leadership and management excellence.
Winner: M&D Brokerage — Monroe, NY
Business Insurance Advantage Agent of the Year
Awarded to a SAN member agent who has profitably grown their commercial insurance book of business while participating in the SIAA Business Insurance Advantage program.
Winner: Tim Massarelli, Account Executive, Thomas B. Carroll Insurance, Inc. — Worcester, MA
Company Professional of the Year
Awarded to a strategic partner company representative demonstrating professionalism, responsiveness, knowledge, and commitment, as well as the ability to provide training and new product education to SAN member agents.
Winner: Lynda Cutts, Territory Manager — Liberty Mutual
SAN President's Club
Awarded to an exceptional, top-performing SAN member agency that has reached and sustained a high level of achievement within the organization.
Winner: Paul T. Murphy Insurance Agency, Inc. — Malden, MA
Pictured Above in Header Image: Paul Murphy (right) of Paul T. Murphy Insurance Agency is presented with the SAN President's Club award by SAN President & CEO, Matt Masiello (left) and SAN COO, Frank Waters (center).